Brian Whyers - Founder, COO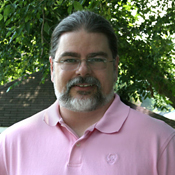 Overseeing day-to-day operations, Brian has seen ADS grow to an agency with over 300 active clients and a full staff of designers and programmers, now utilizing many of them as Freelance talent. With a BA from the Univ. of Missouri, St. Louis, he helped begin and run several small businesses there before moving to Chicago in 1991. He excels at "strategy within budget", having fine-tuned process maps for artwork and web design/dev. for well over a decade.
Brian is a Christian, happily married to his wife Cheryl. Brian is a bit of an audiophile, a motorcyclist, enjoys science, history, apologetics and church history, speculative fiction, audio books, and playing chess, poker and especially, drums and percussion.