Brian Whyers - Founder, COO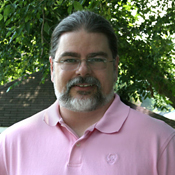 Overseeing day-to-day operations, Brian has seen ADS grow to an agency with over 300 clients. Brian directs all design and personally completed the majority of production on the print and web collateral seen on this site portfolio. With a BA from the Univ. of Missouri, St. Louis, he enjoys project managing, design/production in Adobe Suite, media editing in Davinci Resolve and is an illustration and retouching specialist and UI/UX expert.
Brian is a Christian, happily married to his wife Cheryl and is a bit of an audiophile, a motorcyclist, enjoys science, history, apologetics and church history, photography, audio books, and especially playing drums and percussion.