Brian Whyers - Founder, COO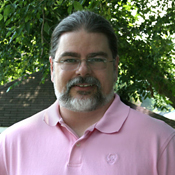 Overseeing day-to-day operations, hires and revenue streams, and even some production when time allows, Brian has seen ADS grow to an agency with over 300 active clients and a full staff of designers and programmers. With a BA from the Univ. of Missouri, St. Louis (Music Business), he helped begin and run several small businesses there before moving to Chicago in 1991. With a knack for seeing the shortest distance to a given point, he excels at "strategy within budget", having fine-tuned process maps for artwork and web design/dev. for well over a decade.
Brian is a Christian, happily married to his wife Cheryl with two children and new grand-daughter Ella. Brian is a bit of an audiophile, a motorcyclist, scuba diver, enjoys science, history, speculative fiction, audio books, and playing chess, poker and especially, drums and percussion. Overheard at his last gig, he touted "I can bend minds with my spoon."